The original WeatherCall personal severe weather warning notification system - trusted by thousands - is now available in a MOBILE version and available on the iPhone and Android devices.
The original WeatherCall@Home system continuously monitors the National Weather Service's NOAA weatherwire and compares a permanent address to the location of the warning area, immediately calling any type of telephone to deliver a specific warning message.
Using the same technology, WeatherCall Mobile monitors the reported location of a smartphone and delivers a warning call or SMS text for the specified period of time the phone remains at that site.
Click HERE to test your phone's compatibility.
---
FREE OPTION - You find the warnings. Notifications are not available.
Users can view current National Weather Service (NWS) warnings, including the full text and a Google map displaying the precise warning area for the entire US and Puerto Rico. (The system works on all browsers equipped with JavaScript V.6 or higher.)
---
SUBSCRIPTION OPTIONS - The warnings and notifications find you.
WeatherCall can track your iPhone or Android device's geo-enabled software to determine your exact location. You get a call from Ron Howes when you are in the path of the storm.
For other smartphones, you can map predetermined locations where WeatherCall can find you - at home, work, on the golf course, out at the little league field, etc. When a storm moves through that area, you'll get a call. You can quickly add new locations from your smartphone when a storm approaches.
WeatherCall Mobile Sign up now!
NOAA's NWS storm-based warning calls
Price: $11.95/year

Get severe weather warnings from the National Weather Service on your mobile device within 1 mile of your location.
The phone will report its current location once per minute and notify you of danger.
A Google map displays the warning polygon so you know EXACTLY where you are in relation to the danger.
WeatherCall Lightning Sign up now!
Real-time lightning strike monitoring
Price: $11.95/year

Monitors a 6 mile radius "protective zone" around you. When lightning strikes are detected within this zone, a warning call will be made to your phone
Fifteen minutes after the last lightning strike has been detected within your protection zone, another phone message will be delivered indicating that it appears safe to resume activities.
WeatherCall Lightning Sign up now!
WeatherCall Mobile PLUS WeatherCall Lightning
Price: $17.95/year

Subscribe to our bundled service which includes both WeatherCall Mobile plus WeatherCall Lightning.
You not only have the ultimate peace of mind when any type of severe storms are brewing, but you'll also save money!
---
NWS Storm-Based Warnings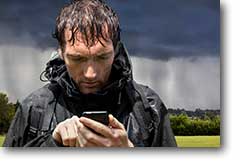 Report a smart phone's current, precise location with a few simple clicks on a map. When a NWS storm-based warning is issued within 1 mile of the phone's location, a warning call from Chief Meteorologist, Ron Howes and/or SMS text will be made to the phone. The full text of the warning can be accessed, and the specific warning area can be viewed on a Google map with browsers equipped with JavaScript V.6 and higher.
Know When Lightning is Too Close
Lightning is extremely dangerous, killing an average of 58 and injuring over 300 people in the US each year. When thunderstorms develop, outdoor activity participants are at risk of being struck. Organizers of any type of outdoor activities are supposed to be familiar with the "Flash-to-Bang" rule used to estimate how close a strike is:
Start to count seconds when a lightning flash is seen-if the thunder happens BEFORE you count to 30,the strike is less than 6 miles away and you are at risk of being struck.
Unfortunately, this "Flash-to-Bang" rule is often used incorrectly or not at all. WeatherCall Lightning automates this "Flash-to-Ban rule, finally removing the guesswork in knowing if you are safe or not.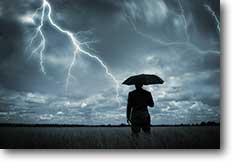 When a smart phone reports its current location, a 6 mile "protective zone" is created and monitored. Any lightning strike detected by the US Precision Lightning Network (USPLN) within this zone will activate a lightning notification phone call from Chief Meteorologist Ron Howes and/or an SMS text, with a recommendation to temporarily suspend activities.
"WeatherCall Mobile Lightning has detected a cloud-to-ground strike within 6 miles or less of the smart phone's current reported location. Suspending activities NOW is recommended."
You can choose to get an all-clear notice for 15 or 30 minutes after the last lightning strike within the protection zone occurs, another phone message from Ron Howes and/or SMS text is delivered, indicating that it appears safe to resume activities.
Important things to know if you choose to subscribe to the service:
The best types of cell phones for using WeatherCall Mobile web-based V.1 are the iPhone, Android, and Palm Pre because of their touch-screen mapping capabilities.
Other web-enabled cell phones can use the web-based application, but the map location function must be performed using the phone's keypad or by using a PC to establish and save frequently visited sites.
When you register, send yourself a test call and STORE the incoming number 866-479-9906 on your phone, naming it "WeatherCall" so your caller ID will display a storm warning call. (NOTE: In rare occasions, the incoming number will display as "Out of Area" or Unknown." Please check with your local carrier to see if they can assist you in displaying 866-479-9906 as WeatherCall.
For assistance, email the WeatherCall Customer Care team for help info@weathercall.net or call 1-800-260-6695 and leave a message with your telephone number and best time to contact you.
To register, you are acknowledging that you accept the terms of the Subscriber Agreement.
To read the WeatherCall Mobile FAQ's CLICK HERE
I AGREE.
Sign me up for WeatherCall Mobile, WeatherCall Lightning, or WeatherCall Plus.
Already signed up?
CLICK HERE to access your WeatherCall Mobile account.
(Blackberry users-please make note: The service will run on a Blackberry or other similar type phones, but the process for setting map locations requires keypad functions which can easily be done on any PC. Please check with Blackberry or your smart phone's manufacturer for updates on availability of new phones using touch-screen mapping.)