NASHVILLE, Tenn. (WTVF) — A Nashville man arrested in connection to the deadly Washington, D.C. riot will be released from custody after appearing in court.
A judge ordered that Eric Munchel be released from custody on bond with conditions after appearing in his second hearing Friday. The earliest he could be released is on Monday.
He's facing several federal charges in connection with the January 6 insurrection at the U.S. Capitol.
Documents say Munchel and his mother Lisa Eisenhart, who is also facing charges relating to the riot, traveled to Washington, D.C. from Nashville to participate in the peaceful "Stop the Steal" rally held by former President Donald Trump.
A witness testified to that saying Eric and his mother had driven to D.C., because they were upset about the outcome of the 2020 election. They returned home after the rally at D.C.
Following the rally, protesters grew violent as they marched to the Capitol grounds, broke down barriers and stormed the Capitol building, interrupting Congress during a joint session to certify the vote count of the Electoral College. Five people died in the riots, including a Capitol police officer.
Munchel and Eisenhart, are accused of stashing weapons in a tactical bag outside the Capitol following the peaceful rally and entering the building with the mob.
Munchel was arrested on January 10 and is facing federal charges of knowingly entering or remaining in a restricted building or grounds without lawful authority, violent entry, disorderly conduct on Capitol grounds, conspiracy and civil disorder.
During the hearing, the prosecution showed the court the total of 15 firearms found in his home. They included AR weapons, a sniper rifle, and multiple pistols as well as one drum-style magazine of ammunition.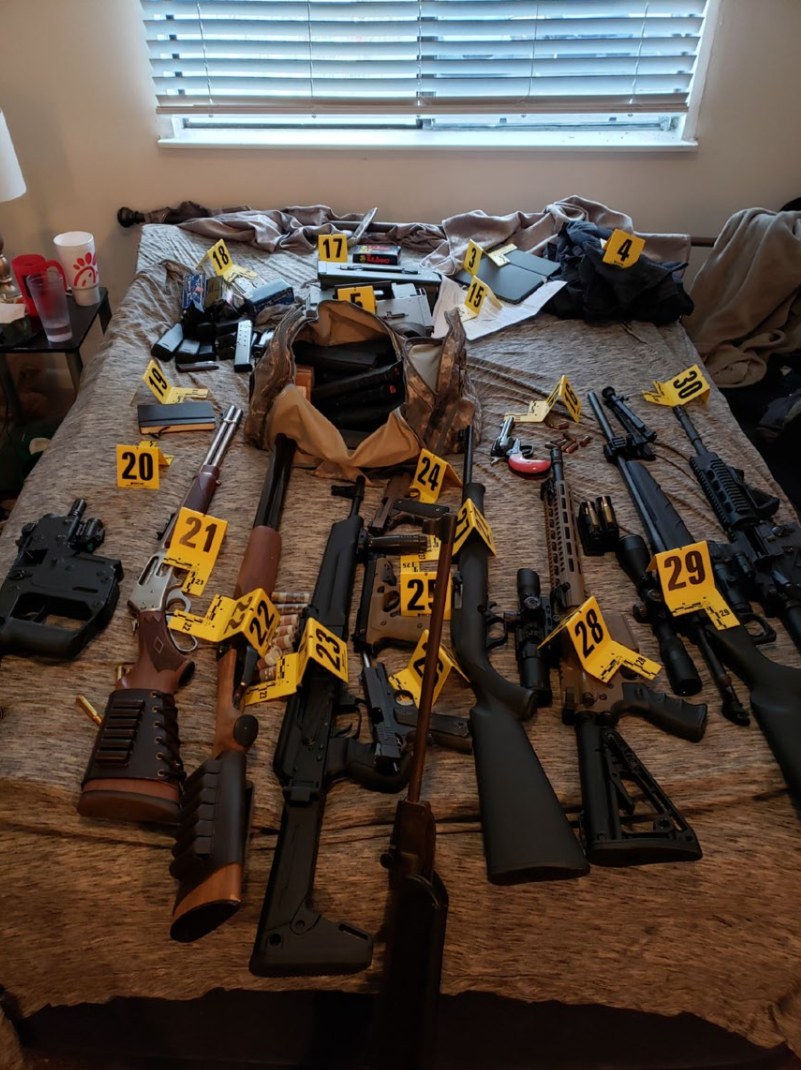 They also found what looks similar to the zip ties, cap and vest that were seen in the photo from the Senate gallery.
Related story: Tactical vests, firearms, ammunition found during search of Eric Munchel's home, court records say
Court records point to various pictures that circulated on social media showing the pair on the Capitol grounds and inside the building. Munchel has been identified as the suspect dubbed "zip tie guy" who was seen invading the Senate gallery.
Munchel's attorney argued he didn't bring zip ties once inside of the Capitol, but rather picked them up once inside.
While the Capitol building sustained significant damage, both the defense and prosecution said that there is no evidence Munchel engaged in any destructive acts inside or outside of the Capitol. His attorney argued Munchel and his mother were likely in the Capitol between 10 and 15 minutes. They walked through an unlocked door.
The FBI agent on the stand confirmed that Munchel told people not to vandalize anything because they aren't Antifa.
Munchel's release was similar to that of two other Capitol riot suspects from Middle Tennessee this week.
His release conditions include:
Report for supervision and call pretrial services once a week
Surrender passport and do not obtain a passport
Travel only in Middle TN unless pre-approved
Prohibited from traveling to Washington DC unless for court or consultation
No possession of firearms, no using narcotics, excessive alcohol
Must submit to testing for substances randomly and may be asked to wear a substance monitoring device
Will submit to location monitoring
He must also Avoid all contact with victim or witness of the prosecution and possess no firearms or other dangerous weapons. Muchel owns the firearms listed above but they were seized as part of the investigation.