Fall is less than a month away with its official start on Sept. 22.
If the calendar's not proof enough, the days are getting a little shorter, kids are going back to school and stores are already stocking Halloween supplies.
However, one sign of autumn that's still scarce? Cooler temperatures. With the exception of a few spots in the middle of the country, most of the country is still dealing with the oppressive heat and humidity of the summer.
That doesn't look like it'll be changing any time soon if long-term forecasts are anything close to correct.
May, June and July experienced record warmth across the United States for that time period. In fact, May through July was the hottest on record for that three-month period.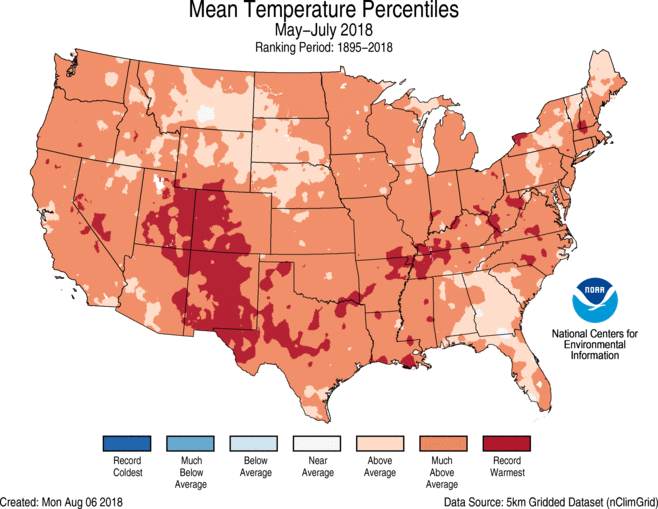 It wasn't until the last few weeks when the Central Plains, parts of the Midwest and parts of the Gulf Coast finally experienced a little relief from the heat. As you can see in the graphic below, temperatures in August have begun to cool down in the middle of the U.S.
According to the latest forecast for the months of September, October and November, that will be changing.
The Climate Prediction Center's latest forecast models are showing above-average temperatures for all of the United States except for Florida, Georgia and Alabama.
A lot of the warmth looks like it will be concentrated in Alaska, but other smaller hot spots will be centered in the Four Corners region in the Southwest and in the Northeast.
As for the rain, most of the country will be close to where they should be for total rainfall in the fall months. The only exceptions will be in Alaska, the Southwest and parts of the Southeast.
Alaska is expected to see some heavier rain through November. Florida and some surrounding states will likely get some extra thunderstorms into the Fall.
The same can be said about the Southwest, which is saying something since monsoon season typically winds down in September.
As we head into the fall months, the Climate Prediction Center has also issued an El Niño watch, forecasting a 60 percent chance for an El Niño to form. That chances increase getting closer to winter.
Fortunately for the US, an El Niño has little to no effect on the overall weather pattern in the fall months. The same can't be said for the winter, however.
Regardless, fans of fall may be a little disappointed in the coming months as it appears summer isn't going to give up so easily.
Instead of getting cozy in a sweater and sipping a pumpkin spice latte next month, it'll be more sweating in the summer heat.
Follow Meteorologist Jason Meyers on Twitter or watch one of his entertaining and educational YouTube videos.
This story originally appeared on Simplemost. Checkout Simplemost for other great tips and ideas to make the most out of life.
---