NASHVILLE, Tenn. (WTVF) — An email sent to Metro School Board members on Tuesday criticizing MNPS leadership set off a flurry of tweets and responses from School Board member Will Pinkston, referring to apparent critics as "broke nitwits."
The email sent to school board members by David Jones was later posted on twitter, which prompted the response from Pinkston.
"I like making nitwits melt down on Twitter," Pinkston tweeted. "It's kind of a thing."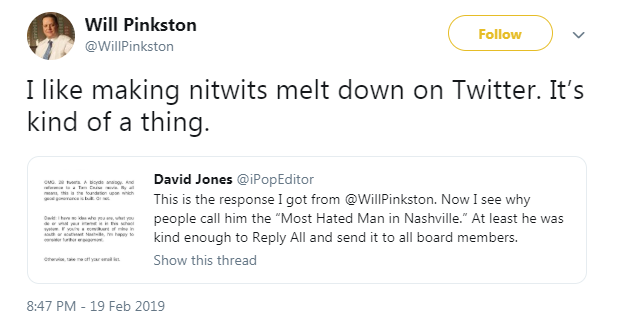 In another tweet, Pinkston appeared to take issue with Jones' criticism because Jones does not live in Davidson County.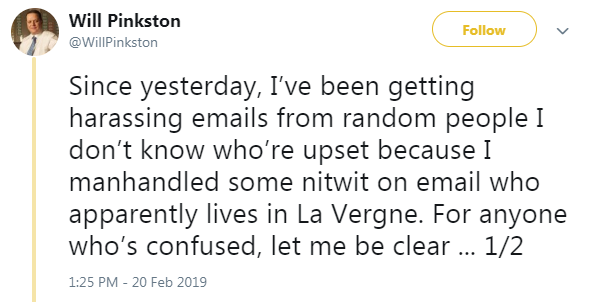 "I've got enough to do without fielding bone-headed missives from Rutherford County," Pinkston tweeted.
Jones wife, Katie Jones responded to that tweet, saying she is a tenured teacher who works for MNPS.
"Your response to the email is both shocking and unprofessional," she wrote. "As a teacher, if I responded to a parent in that manner, I would be reprimanded. Katie asked, "What is your consequence?"
Pinkston responded, tweeting in part "I'd nominate you for a blue ribbon award for standing up to nitwittery." He then encouraged the teacher to reach out to him offline.
With Pinkston's tweets gaining more traction online, another user appeared to threaten legal action against Pinkston for his comments, to which Pinkston replied:
"If some broke nitwits want to sue me to unblock them on Twitter, it'll show how obsessed they are. I'm thinking this lawsuit could be styled — "Nitwits v. Pinkston For Schools (2019)." Now I just need to start a legal defense fund. Sigh."
When contacted Wednesday, Pinkston declined to add anything more to his comments, saying the tweets speak for themselves.