NASHVILLE, Tenn. (WTVF) — The fourth day of trial for Travis Reinking, the man accused of opening fire at an Antioch Waffle House in 2018, has concluded after the defense rested its case. On Friday, closing arguments will begin, then the case will go to the jury.
Reinking pleaded not guilty by reason of insanity to 16 charges, including four counts of first-degree murder.
Under state law, there are two legal prongs jurors must conclude for Reinking's insanity defense to succeed. First, Reinking "was unable to appreciate the nature or wrongfulness" of his acts. Second, that inability was "as a result of a severe mental disease or defect."
On Wednesday, the prosecution rested its case by lunchtime. The jury spent the afternoon listening to the defense's first witness, Dr. Mary Elizabeth Wood, an expert in forensic psychology.
When court resumed Thursday, Dr. Wood was called back to discuss a YouTube video recorded by Reinking before the shooting. In the video, which appears to be shot using a front-facing smartphone camera, Reinking rambles on about several things, constantly switching topics in a stream of consciousness. Reinking discusses hackers going through files on his computer, people breaking into his apartment and leaving his toilet seat up.
"Why is someone coming into my apartment and doing this stuff," he says in the video. "It aggravates me to no end that these people are doing this stuff."
The defense then called its next witness, Dr. Rena Isen, who is also a forensic psychologist, on Thursday. Dr. Isen treated Reinking after the shooting.
Journal entries were written before the shooting were presented as evidence. The entries showed Reinking thought the workers at the Waffle House were FBI and CIA agents who have poisoned him.
Isen testified that after the shooting, Reinking told her "a direct implant from God" told him to go to the Waffle House and shoot people because he thought people in the restaurant were CIA and FBI agents.
Isen said she believed Reinking could not appreciate what he did during the Waffle House shooting was wrong.
She said Reinking stole a BMW from a Brentwood dealership as a "punitive action" in response to him believing items were stolen from his home. Assistant District Attorney Jan Norman asked the witness whether the concept of "punitive action" is an indicator that a person understands wrongfulness. "Yes, the general concept, it does indicate that he understands that," Isen replied.
Norman questioned Isen about Reinking's actions in the aftermath of the shooting, mentioning how he ran from the area to avoid law enforcement.
"He said he heard sirens and thought, 'I gotta get out of here because they are going to try to convict me.' Reinking is indicating he understood the wrongfulness?" Norman asked
"Yes, he understood the police would be after him," Isen responded.
Norman continued on, speaking on Reinking's plan to go to Canada after the shooting, putting mud on his body in an attempt to block the scent for search dogs and hiding under a home from police. In each instance, Norman asked if Reinking understood the wrongfulness of his action; Isen replied yes.
After a lunch break and further testimony from Isen, the defense rested its case. Reinking took the stand to waive his right to testify.
The prosecution then began to call its rebuttal witnesses. Reinking took the stand to waive his right to testify.
The first was Brentwood Police Officer Brent Phalen. Lawyers for the prosecution focused on the BMW stolen by Reinking before the Waffle House shooting.
Phalen, a member of the direct enforcement team, said he received a call about a stolen BMW.
"They said the vehicle had been followed by a third party," Phalen said. "I was traveling westbound and observed the vehicle matching that description on Concord Road. I had to maneuver around another citizen vehicle. I saw it wasn't displaying a license plate. I stayed behind the vehicle, and I activated my lights."
Phalen said the pursuit was on Concord Road and the pursuit was terminated.
"BMW got to track it passively," Phalen said. "There was moderate to heavy traffic on the stretch of road."
Caleb Andrist — who was previously with the BPD — also testified that he responded to the stolen BMW.
"With the investigation, later on that evening, Metro police called that they located the vehicle, and I dusted for prints on the vehicle," Andrist said.
Jena Jacobsen, an employee at the dealership, testified that Reinking asked to see a vehicle.
"We walked out together. He was quiet, and I headed toward the vehicle so we could go over the vehicle so we could show him what he was looking for," Jacobsen said. "My job is to demo that vehicle and go over the features. Nine times out of 10, the key is never in the customer's hands."
Jacobsen said Reinking didn't tell him what he wanted out of the car. She described it as a one-sided conversation.
When asked for his license and insurance, Reinking said Jacobsen didn't understand.
"He proceeded to ask if I had the key, and I held the key in my hand," she said. "At that point, he grabbed the end of the key and grabbed the key from my possession. I didn't let go right away. I was shocked that someone was physically taking something from me. There was a pull. As he took the key and I was pulled back toward him, I asked him if he was serious. He said yes and that I needed to get out."
The state then recalled MNPD Detective Desmond Sumerel to the stand.
Michael Mouret, who owns Nashville Coin and Currency, was the next witness. He told the court Reinking wanted to buy $1,700 worth of silver.
Next, Davidson County Sheriff's Cpl. Jacob Bianchi came forward to the stand. He's worked with the department the last five years.
"When I was assigned to the unit, I would interact with him periodically during the day," he said. "I had very minimal conversation with him. He was a quiet guy."
The prosecution presented Bianchi with a Styrofoam tray, which was passed the jury. The artwork was displayed before the court, showing a Waffle House and people being shot.
"I alerted my supervisor as soon as I got the container," Bianchi said. "He was very calm and followed institutional rules."
Tyler Saggs — with the Davidson County Sheriff's Office — also monitored Reinking. He received a similar drawing on a tray.
The images were the final piece of evidence presented in court.
Following Saggs' testimony, court adjourned for the day with plans to resume Friday for closing arguments.
Previous trial coverage:
Day 1: Opening arguments, prosecution begins
James Shaw Jr. recounts wrestling gun away from Travis Reinking
Day 2: Prosecution calls victim, various law enforcement officers to testify
Day 3: Prosecution calls final witness before resting its case
Travis Reinking wrote he was being hacked, possibly delusional in letters to Taylor Swift, Oprah
Day 3: Defense calls its first witness, a forensic psychologist, to testify on Reinking's mental health
Day 4: Defense calls second psychologist, state calls rebuttal witnesses
On jail meal tray, Reinking drew depiction of Waffle House shooting
Day 5: Closing arguments, jury hears charges then begins deliberation
---
TIMELINE OF WAFFLE HOUSE SHOOTING CASE
---
April 22, 2018: Four people are killed and four others wounded when a gunman opens fire at an Antioch Waffle House around 3:30 a.m.
Metro Nashville Police Department officials named 29-year-old Travis Reinking, from Illinois, as a person of interest in the shooting, saying the vehicle the gunman used was registered to him.
MNPD officers, to include SWAT, have continued the search for Travis Reinking in the Antioch area overnight. There have been no credible sightings. The search will continue. All schools in the area have been cleared by officers. He was last seen Sun morn behind his apt complex. pic.twitter.com/ChY1ihCdKG

— Metro Nashville PD (@MNPDNashville) April 23, 2018
---
April 23, 2018: Reinking is taken into custody
After a tense, 34-hour manhunt, Reinking is arrested in a wooded area near Old Hickory Boulevard and Hobson Pike.
The area in which Travis Reinking was apprehended was the subject of aerial and canine searches Sunday and ground searches earlier today. His movements since the shooting are unknown. Reinking refused to give a statement to detectives. pic.twitter.com/F36lxQz6mz

— Metro Nashville PD (@MNPDNashville) April 23, 2018
He's been in custody ever since and is now at the new Davidson County jail.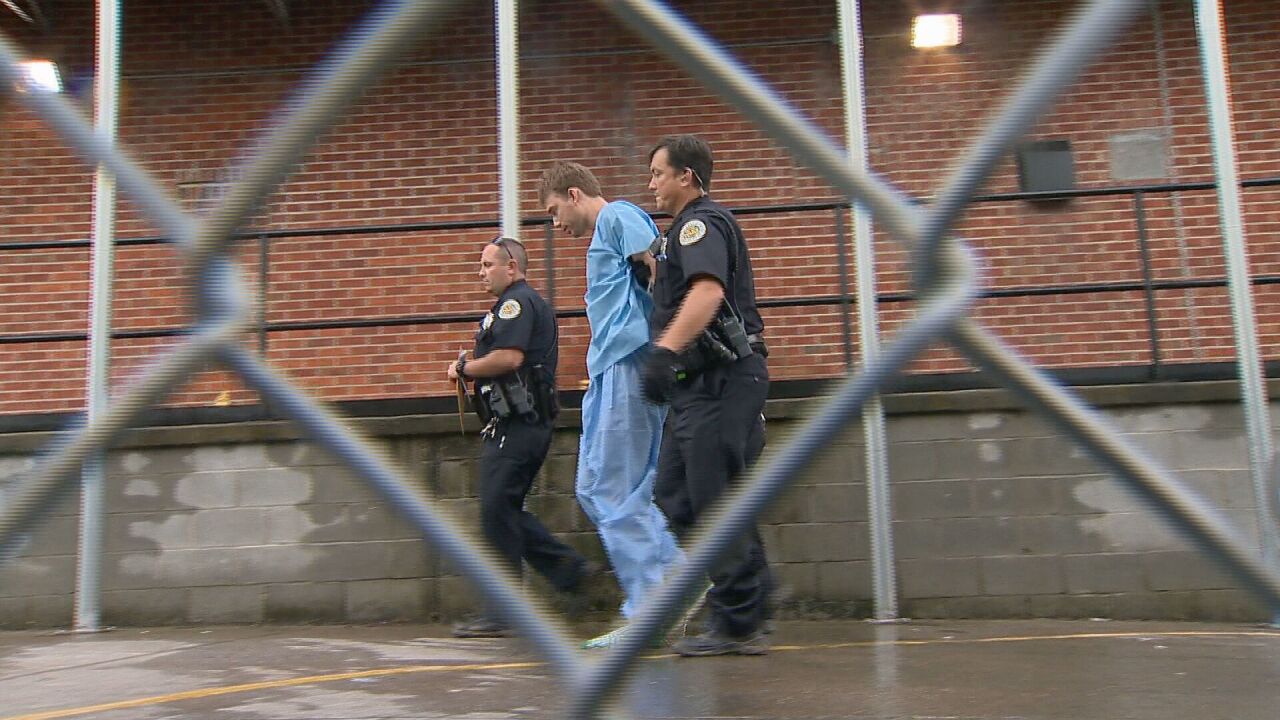 ---
August 2018: Reinking deemed not competent to stand trial
A mental evaluation finds that Reinking is not competent to stand trial. Reinking, diagnosed with schizophrenia, is checked into the Middle Tennessee Mental Health Institute for evaluation.
A judge later deems him fit for trial and he's indicted on 16 counts, including murder.
Below is the list of charges:

Four counts of first-degree murder, premeditated — in the deaths of Joe Perez Jr., Taurean Sanderlin, Akilah Dasilva and DeEbony Groves
Two counts of attempted first-degree murder, premeditated, with serious bodily injury — of Shantia Waggoner and Sharita Henderson
Two counts of employing firearm during commission of or attempted to commit a dangerous felony — relating to attempted first-degree murder of Shanita Waggoner and Sharita Henderson
Two counts of attempted first-degree murder, premeditated — of Kayla Shaw and James Shaw Jr.
Two counts of employing firearm during commission of or attempted to commit a dangerous felony - relating to attempted first-degree murder of Kayla Shaw and James Shaw Jr.
Four counts of first-degree murder, felony murder — in the death of Joe Perez Jr., Taurean Sanderlin, Akilah Dasilva, DeEbony Groves
---
February 2019: Reinking pleads not guilty
Reinking pleads not guilty to charges related to the shooting. Reinking does not appear in court; his lawyer enters the plea on his behalf.
---
January 2020: Prosecutors announce they won't seek death penalty
---
REMEMBERING THE VICTIMS:
DeEbony Groves was from Gallatin and a senior at Belmont, majoring in social work. She was shot and killed inside the restaurant. She was 21.
Akilah Dasilva was inside with his girlfriend and brother when he was shot. He was taken to Vanderbilt University Medical Center, where he died. Friends called him a "passionate" musician who was pursuing a career in musical engineering at MTSU.
Joe Perez, the youngest victim, moved to Nashville from Texas a few months prior to the shooting and was also shot outside the restaurant. He was 20 years old.
Taurean Sanderlin age 29, was a Waffle House employee from Goodlettsville. He was shot and killed as he stood outside.