NASHVILLE, Tenn. (WTVF) — On the third day of trial for Travis Reinking, the man accused of opening fire at an Antioch Waffle House in 2018, the prosecution called its final witness and rested its case.
Over the last two days, the jury has heard from several Metro Nashville Police Department employees who were involved in the investigation, as well as witnesses and family of the victims.
Reinking pleaded not guilty by reason of insanity to 16 charges, including four counts of murder. The main debate in this trial is not whether Reinking was the gunman, but instead whether or not he was insane when he did it.
Both the prosecution and defense are expected to bring in their own experts who will testify on Reinking's mental health.
After a brief discussion over the jury instructions, the court resumed at 10 a.m. with the prosecution's first witness: Detective Desmond Sumerel.
Sumerel is an investigator in Metro Nashville Police Department's South Precinct who was involved in the investigation of the crime scene and Reinking's apartment.
During his testimony, the jury was shown photos from inside Reinking's apartment, including his computer, laptop and iPhone.
Sumerel testified that inside a safe found in the apartment was a key fob for a BMW that Reinking is accused of stealing from a Brentwood dealership. The day before the Waffle House shooting, police recovered that BMW at the apartment and towed it.
In the truck Reinking drove to the Waffle House, investigators found receipts from the Nashville Armory. Sumerel testified that receipts showed purchases for three, 30-round magazines for a semi-automatic rifle and a magazine that matched the pistol that was found in Reinking's backpack. The purchases were made on April 8, 2018, and the handgun magazine was returned the following day.
Investigators confirmed with the Nashville Armory that Reinking was the person who purchased the items, through records and video surveillance.
After passing the witness to the defense, Sumerel was asked to open the safe found in Reinking's apartment for the jury. Among the contents inside were letters to Taylor Swift and Oprah Winfrey, the BMW key fob, notebooks, mail, a passport, diploma and checkbook.
Defense attorney Luke Evans asked Sumerel to read the letters inside the safe, which prompted an objection from Assistant District Attorney Jan Norman. The jury was asked to leave the courtroom during a discussion on the evidence, but ultimately Judge Fishburn overruled the objection, allowing the letters to be read.
After Sumerel reads the letters, the state rested its case. Court then took a recess for lunch.
When court resumed, the defense called its first witness: Dr. Mary Elizabeth Wood, an expert in forensic psychology.
Wood testified that Vanderbilt University Medical Center, her employer, was ordered by the court to evaluate Reinking on May 2, 2018 — nearly a week after he was arrested. Wood testified that Reinking was diagnosed with schizophrenia.
Wood testified that Reinking did not know what he was doing when he opened fire at the Waffle House. She said God told him to go to the Waffle House and kill three people. Wood said when Reinking saw Joe Perez Jr. outside the restaurant wearing a hit with a "3" on it, Reinking took it as a sign, corroborating God's message to him.
"He put on a jacket, got the gun, and walked to his car," Wood said. "He described feeling humiliated and embarrassed. He said it was also symbolic — because 'they had taken everything from me.' He said he was upset and some ways angry when he arrived and saw that the lights were on and how many people were inside. Mr. Reinking said it was about four minutes he sat in his car. He said he continued to grapple with this decision and that he hoped the gun would jam," Wood said
She said that Reinking talking to the police doesn't mean he understood it was wrong.
"It can be an indication they understood it was wrong," Wood said. "But this is an adversarial system we are talking about."
The prosecution argued that Reinking had a legal advocate, who was heavily involved in the case well before they met with Reinking.
She said she made a determination of her decision based on the information she was provided and how each side was trying to persuade her.
"I am cognizant of that."
She explained that Ariana Grande and Taylor Swift and other celebrities were in his dream and delusions. He believed he was drugged and raped by Swift.
"I am referring to tactile hallucinations," she said. "These happened on different occasions as well. The way he characterized this is rape, which wasn't wanted or positive. He perceived unwanted sexual contact from someone he had a romantic interest. That's different than suggesting he had a positive experience or enjoying it."
She added she didn't find aware of his actions at the time of Reinking shooting up the Waffle House. She explained that his symptoms weren't necessarily exaggerated during his evaluation.
"He did not appreciate the wrongfulness of his actions that night," Wood said.
Further, Wood said leaving the scene to create a manhunt was demonstrative he wasn't in his right mind.
"There's significant evidence to suggest Mr. Reinking thought he was in danger at the hands of police," Wood said. "It makes sense to me, then, that Mr. Reinking would not have stayed. He said the police reports he made before were punitive. He explained he was trying to protect himself."
She said he believed that those in the Waffle House were "targets."
"He tried alternative course of action," she said. "He said he didn't have a jail for them. He doesn't perceive them as innocent bystanders. He perceived them as CIA agents that had been doing the attacking and harassing him in his home. He didn't perceive them as innocent bystanders at that point in time."
Wood and the defense discussed Reinking previously stealing a BMW, him taking all the identifying information off the car. She noted that he noticed the car cost $88,000.
"After I got back to my apartment, it was about what I imagined it would be," she said reading from his journal.
The prosecution said he knew he was killing people.
"He believed he was killing the people that were targeting him, yes," Wood said.
She said he was upset because the police took back the car he stole, but that the prosecution focusing on that was missing the larger picture.
"I talked about how this all progressed," Wood said. "He developed this belief about having a relationship with her. That relationship changed and no longer one in which he believes Taylor Swift loves him."
The prosecution combed through his journal entries, having Wood read excerpts.
"Yes, he knows he shot people. He was acting in self-defense. But he said this was an effort to protect himself and of years of persecution. He believed they were the agents involved in this persecution. He described it as me or them. You're trying to impose logic and reasoning."
The defense asked Wood if his journal entries sounded like if he was in his mind that day.
"No," she said. "They do not."
The jury will return Thursday for the defense's second witness, which could take hours, the judge told the jury.
Previous trial coverage:
Day 1: Opening arguments, prosecution begins
James Shaw Jr. recounts wrestling gun away from Travis Reinking
Day 2: Prosecution calls victim, various law enforcement officers to testify
Day 3: Prosecution calls final witness before resting its case
Travis Reinking wrote he was being hacked, possibly delusional in letters to Taylor Swift, Oprah
Day 3: Defense calls its first witness, a forensic psychologist, to testify on Reinking's mental health
Day 4: Defense calls second psychologist, state calls rebuttal witnesses
On jail meal tray, Reinking drew depiction of Waffle House shooting
Day 5: Closing arguments, jury hears charges then begins deliberation
---
TIMELINE OF WAFFLE HOUSE SHOOTING CASE
---
April 22, 2018: Four people are killed and four others wounded when a gunman opens fire at an Antioch Waffle House around 3:30 a.m.
Metro Nashville Police Department officials named 29-year-old Travis Reinking, from Illinois, as a person of interest in the shooting, saying the vehicle the gunman used was registered to him.
MNPD officers, to include SWAT, have continued the search for Travis Reinking in the Antioch area overnight. There have been no credible sightings. The search will continue. All schools in the area have been cleared by officers. He was last seen Sun morn behind his apt complex. pic.twitter.com/ChY1ihCdKG

— Metro Nashville PD (@MNPDNashville) April 23, 2018
---
April 23, 2018: Reinking is taken into custody
After a tense, 34-hour manhunt, Reinking is arrested in a wooded area near Old Hickory Boulevard and Hobson Pike.
The area in which Travis Reinking was apprehended was the subject of aerial and canine searches Sunday and ground searches earlier today. His movements since the shooting are unknown. Reinking refused to give a statement to detectives. pic.twitter.com/F36lxQz6mz

— Metro Nashville PD (@MNPDNashville) April 23, 2018
He's been in custody ever since and is now at the new Davidson County jail.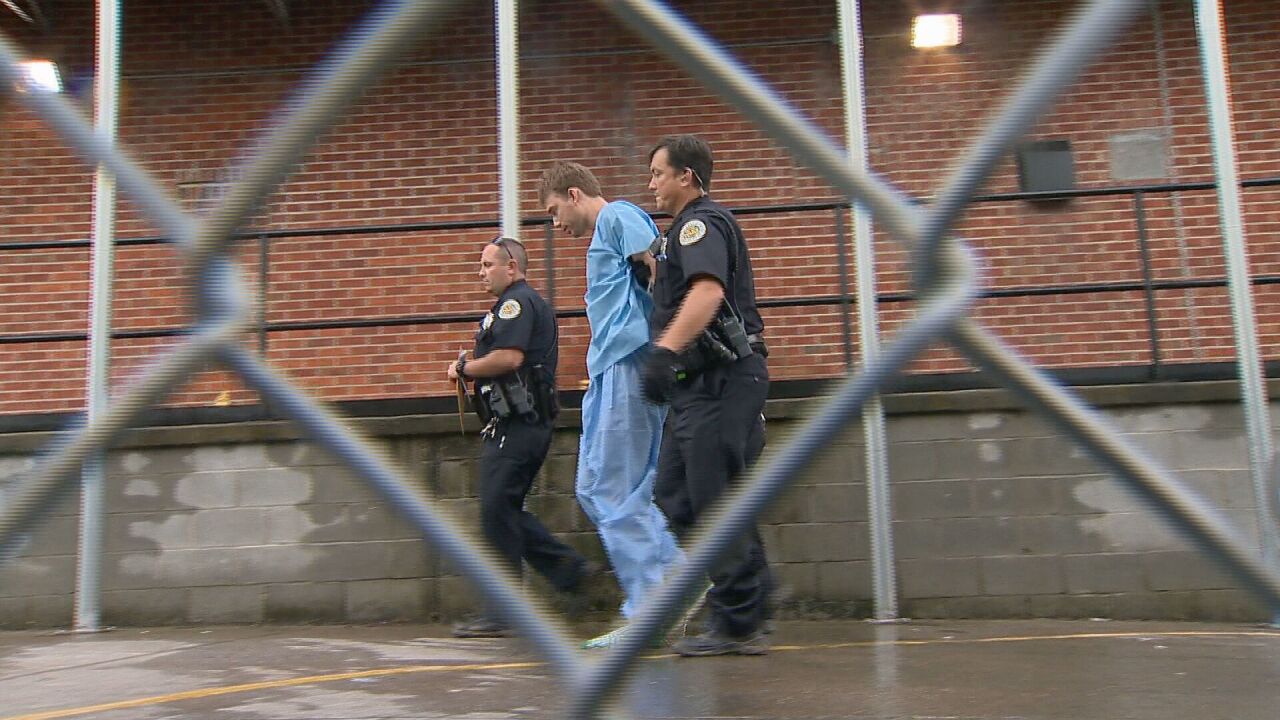 ---
August 2018: Reinking deemed not competent to stand trial
A mental evaluation finds that Reinking is not competent to stand trial. Reinking, diagnosed with schizophrenia, is checked into the Middle Tennessee Mental Health Institute for evaluation.
A judge later deems him fit for trial and he's indicted on 16 counts, including murder.
Below is the list of charges:

Four counts of first-degree murder, premeditated — in the deaths of Joe Perez Jr., Taurean Sanderlin, Akilah Dasilva and DeEbony Groves
Two counts of attempted first-degree murder, premeditated, with serious bodily injury — of Shantia Waggoner and Sharita Henderson
Two counts of employing firearm during commission of or attempted to commit a dangerous felony — relating to attempted first-degree murder of Shanita Waggoner and Sharita Henderson
Two counts of attempted first-degree murder, premeditated — of Kayla Shaw and James Shaw Jr.
Two counts of employing firearm during commission of or attempted to commit a dangerous felony - relating to attempted first-degree murder of Kayla Shaw and James Shaw Jr.
Four counts of first-degree murder, felony murder — in the death of Joe Perez Jr., Taurean Sanderlin, Akilah Dasilva, DeEbony Groves
---
February 2019: Reinking pleads not guilty
Reinking pleads not guilty to charges related to the shooting. Reinking does not appear in court; his lawyer enters the plea on his behalf.
---
January 2020: Prosecutors announce they won't seek death penalty
---
REMEMBERING THE VICTIMS:
DeEbony Groves was from Gallatin and a senior at Belmont, majoring in social work. She was shot and killed inside the restaurant. She was 21.
Akilah Dasilva was inside with his girlfriend and brother when he was shot. He was taken to Vanderbilt University Medical Center, where he died. Friends called him a "passionate" musician who was pursuing a career in musical engineering at MTSU.
Joe Perez, the youngest victim, moved to Nashville from Texas a few months prior to the shooting and was also shot outside the restaurant. He was 20 years old.
Taurean Sanderlin age 29, was a Waffle House employee from Goodlettsville. He was shot and killed as he stood outside.