NASHVILLE, Tenn. (WTVF) — The second day in trial for Travis Reinking, accused of opening fire in 2018 at an Antioch Waffle House, has concluded.
As the trial continues, the jury can expect to hear more about what happened in the restaurant that lead to the deaths of four people — DeEbony Groves, Akilah Dasilva, Joe Perez, and Taurean Sanderlin. The trial is expected to go on for about three weeks, with perhaps more than 60 witnesses called to testify. If Reinking is found guilty, he faces life in prison.
The main debate in this trial will not be whether Reinking walked into the Waffle House and opened fire, it will hinge on whether he was insane when he did it.
Reinking pleaded not guilty by reason of insanity to 16 charges, including four counts of murder. This means the burden of proof is on Reinking's attorneys to prove with "clear and convincing evidence" that Reinking was insane during the shooting.
Throughout opening statements, the prosecution tried to paint a picture to the jury of someone who knew exactly what they were doing when they opened fire inside the Waffle House, someone who went inside to kill people out of revenge.
But defense attorneys said they will prove that Reinking has battled schizophrenia for several years and that he is severely mentally ill. They said that on that day, Reinking thought God was commanding him to go to the Waffle House. They say Reinking has experienced multiple delusions.
During the first day of trial, the jury heard from several family members of the shooting victims, as well as witnesses, and saw intense surveillance video inside the Waffle House during the shooting.
The first witness called on day two was Kayla Shaw, who recounted how she pretended to be dead in order to stay alive.
The jury then heard from three additional MNPD employees, including Investigator Danielle Connors, who was called to testify twice on Monday.
After a midmorning break, the defense asked Judge Fishburn to suppress a video of Reinking being led away in handcuffs, saying it could cause prejudice. The judge overruled, saying it's common knowledge that if you get arrested, you'll be handcuffed.
The jury was brought in after the discussion, and the trial continued with testimony from MNPD Sgt. Ben Bryner.
Bryner was called in to help track down Reinking on April 22. He detailed to the court his experience of responding to reports of sightings during the 34-hour manhunt for Reinking.
The prosecution then called special agent Kyle Williams, who was a detective in MNPD's narcotics unit at the time. Williams testified that he discovered Reinking behind a tree in the woods. He recalled telling Reinking "do not move" and Reinking responded, "I will not."
Williams testified that in his experience, Reinking did not show any behaviors or signs of mental illness when he was apprehended.
Officer Megan Arnett, who was a detective with Metro's narcotics unit in 2018, was called next. Arnett said she was called in to help with the search for Reinking. She was not present for his arrest, but was one of the first officers to search the backpack Reinking was found carrying.
The prosecution showed pictures of the backpack Reinking was carrying when he was arrested. Inside was a gun, a bible, a flashlight and ammunition.
After a lunch recess, the prosecution called Detective Kimberly Brown to the stand. At the time of the shooting, Brown was working with Metro's narcotics unit. Brown was among the officers in the unit who assisted in the search for Reinking.
She testified to seeing Reinking while in a "prone" position with Williams before she and another officer took Reinking into custody.
Brown was handed an evidence bag containing the backpack Reinking was carrying when he was caught. In court, Brown revealed its contents: a bible, water bottles, gun holster, flashlight and sunscreen. She recalled seeing a pistol, ammunition and "silver bars" in the backpack on the day he was arrested.
The prosecution asked Brown to review the gun that was found, as well as a wallet containing $464 in cash.
Next, MNPD Officer Brian Penny was called to testify on his experience transporting Reinking from the place of his arrest to South Precinct, then again to Meharry Hospital.
Penny said Reinking was "completely compliant, there was no issues. I would say model suspect, no issues with him at all." Penny testified that he was with Reinking for about six hours that day.
Next, Officer Phillip Klarer detailed how he took a DNA swab from Reinking after he was taken into custody.
"He was very cooperative. He said OK. He opened his mouth. I gave him a copy of the search warrant. He was very cooperative," Klarer said.
Klarer said James Shaw Jr. didn't call tell him Reinking called him a racial slur at the time, but Shaw said he remembered it later.
Julie Ellis with TBI explained the DNA analysis of Reinking and Shaw. She testified that both of their DNA was found on the AR-15.
Bridget Chambers — with MNPD — explained how she investigated the gun Reinking used during the shooting at Waffle House.
Dr. Thomas Deering went through the autopsy of Perez, showing how the bullets affected his body and how the shooting ultimately led to his death. He said Sanderlin's case was the most complicated, because of the seven gunshot wounds that entered the body. Ultimately, he did three of the four autopsies of the victims, but didn't of Dasilva.
The final witness for the prosecution will testify on the mental sanity of Reinking, before handing the case over to the defense.
Court will return at 9 a.m. Wednesday.
Previous trial coverage:
Day 1: Opening arguments, prosecution begins
James Shaw Jr. recounts wrestling gun away from Travis Reinking
Day 2: Prosecution calls victim, various law enforcement officers to testify
Day 3: Prosecution calls final witness before resting its case
Travis Reinking wrote he was being hacked, possibly delusional in letters to Taylor Swift, Oprah
Day 3: Defense calls its first witness, a forensic psychologist, to testify on Reinking's mental health
Day 4: Defense calls second psychologist, state calls rebuttal witnesses
On jail meal tray, Reinking drew depiction of Waffle House shooting
Day 5: Closing arguments, jury hears charges then begins deliberation
---
TIMELINE OF WAFFLE HOUSE SHOOTING CASE
---
April 22, 2018: Four people are killed and four others wounded when a gunman opens fire at an Antioch Waffle House around 3:30 a.m.
Metro Nashville Police Department officials named 29-year-old Travis Reinking, from Illinois, as a person of interest in the shooting, saying the vehicle the gunman used was registered to him.
MNPD officers, to include SWAT, have continued the search for Travis Reinking in the Antioch area overnight. There have been no credible sightings. The search will continue. All schools in the area have been cleared by officers. He was last seen Sun morn behind his apt complex. pic.twitter.com/ChY1ihCdKG

— Metro Nashville PD (@MNPDNashville) April 23, 2018
---
April 23, 2018: Reinking is taken into custody
After a tense, 34-hour manhunt, Reinking is arrested in a wooded area near Old Hickory Boulevard and Hobson Pike.
The area in which Travis Reinking was apprehended was the subject of aerial and canine searches Sunday and ground searches earlier today. His movements since the shooting are unknown. Reinking refused to give a statement to detectives. pic.twitter.com/F36lxQz6mz

— Metro Nashville PD (@MNPDNashville) April 23, 2018
He's been in custody ever since and is now at the new Davidson County jail.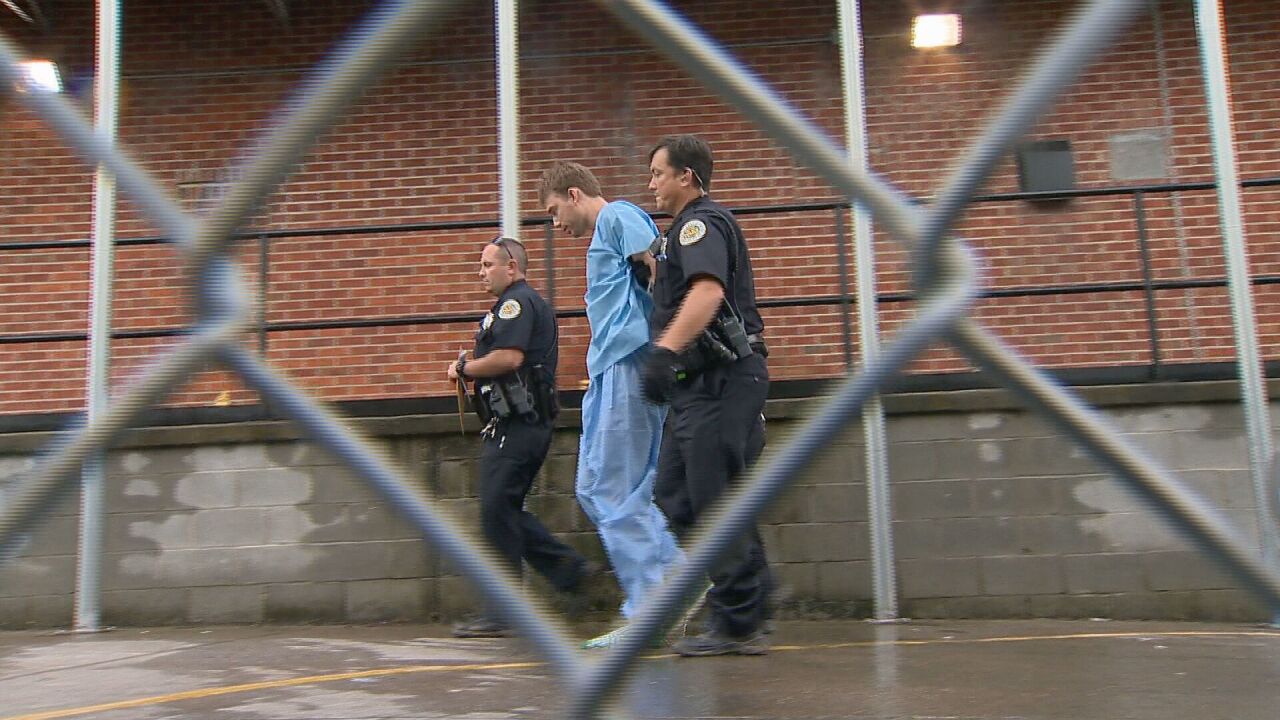 ---
August 2018: Reinking deemed not competent to stand trial
A mental evaluation finds that Reinking is not competent to stand trial. Reinking, diagnosed with schizophrenia, is checked into the Middle Tennessee Mental Health Institute for evaluation.
A judge later deems him fit for trial and he's indicted on 16 counts, including murder.
Below is the list of charges:

Four counts of first-degree murder, premeditated — in the deaths of Joe Perez Jr., Taurean Sanderlin, Akilah Dasilva and DeEbony Groves
Two counts of attempted first-degree murder, premeditated, with serious bodily injury — of Shantia Waggoner and Sharita Henderson
Two counts of employing firearm during commission of or attempted to commit a dangerous felony — relating to attempted first-degree murder of Shanita Waggoner and Sharita Henderson
Two counts of attempted first-degree murder, premeditated — of Kayla Shaw and James Shaw Jr.
Two counts of employing firearm during commission of or attempted to commit a dangerous felony - relating to attempted first-degree murder of Kayla Shaw and James Shaw Jr.
Four counts of first-degree murder, felony murder — in the death of Joe Perez Jr., Taurean Sanderlin, Akilah Dasilva, DeEbony Groves
---
February 2019: Reinking pleads not guilty
Reinking pleads not guilty to charges related to the shooting. Reinking does not appear in court; his lawyer enters the plea on his behalf.
---
January 2020: Prosecutors announce they won't seek death penalty
---
REMEMBERING THE VICTIMS:
DeEbony Groves was from Gallatin and a senior at Belmont, majoring in social work. She was shot and killed inside the restaurant. She was 21.
Akilah Dasilva was inside with his girlfriend and brother when he was shot. He was taken to Vanderbilt University Medical Center, where he died. Friends called him a "passionate" musician who was pursuing a career in musical engineering at MTSU.
Joe Perez, the youngest victim, moved to Nashville from Texas a few months prior to the shooting and was also shot outside the restaurant. He was 20 years old.
Taurean Sanderlin age 29, was a Waffle House employee from Goodlettsville. He was shot and killed as he stood outside.