NASHVILLE, Tenn. (WTVF) — After nearly four years, the trial for Travis Reinking, the man accused of opening fire at an Antioch Waffle House, has begun.
The jury was seated on Friday consisting of 12 women and two men.
Opening statements were set to begin at 8:30 a.m., but were delayed for nearly an hour as Judge Mark Fishburn stepped out to evaluate what evidence medical experts may be allowed to testify on. The prosecution asked for more time to review certain materials the defense said it plans to show. Fishburn ruled that the experts have until Tuesday at 6 p.m. to review the materials the defense plans to introduce and compile a supplemental report.
In opening statements, prosecutors said the jury will hear from Abede Dasilva, who will recount the last words of his brother, Akilah Dasilva. Akilah died after one shot punctured his lungs. Assistant District Attorney Jan Norman said Reinking made choices and knew what he was doing when he murdered four people and injured others.
Defense attorney Luke Evans did not dispute Reinking was the shooter, but said the defense intends to prove Reinking suffers from severe mental illness. Evans said Reinking had delusions that lead to the massacre.
During the early morning hours of April 22, 2018, Reinking is accused of walking into the Waffle House on Murfreesboro Pike half-naked, shooting and killing four people — DeEbony Groves, Akilah Dasilva, Joe Perez, and Taurean Sanderlin. He was taken into custody the following day after a tense 34-hour manhunt.
The case was on hold for months while Reinking was treated for schizophrenia in a mental health facility. He was later deemed fit for trial. Reinking pleaded not guilty by reason of insanity to 16 charges, including four counts of murder. He is facing life in prison.
His legal team will have the burden of proof to show "clear and convincing evidence" that Reinking was insane during the shooting.
The prosecution's first witness was Metro Nashville Police Detective Brett Johns, who became emotional as he recounted the injuries and deaths he saw in the aftermath of the shooting.
"The extent of their injuries, the people that I dealt with inside, [the restaurant] the conversations that I had with people that didn't make it, I think about it quite often," he said.
Johns was the first officer on the scene. He said before entering the restaurant, he saw James Shaw, who was very distraught and emotional. Johns said Shaw kept saying "I fought him, I fought him."
The prosecution showed Johns several pictures of the scene in the aftermath of the shooting, including a photo of the weapon used by Reinking that Shaw wrested away from him.
The second witness called was K9 officer John Gilpin, who was the next to respond to the scene. Gilpin spoke about working with Brax, a K9, to pick up a scent and track Reinking.
After his testimony, court broke for a one-hour lunch.
Danielle Connor, a crime scene investigator, was the prosecution's third witness. She found the jacket Reinking was allegedly wearing. During her testimony, the prosecution showed images Connor scanned when she was documenting the crime scene.
Among the photos was a picture of the jacket Connor found down the street from the Waffle House. Connor said the jacket had a rifle magazine in both pockets, each with 30 cartridges.
The fourth witness of the day was Chelsey Owens, who was ending the night with friends at the Waffle House. She detailed her experience that night, starting with the moments the first saw Reinking. Owens described when Shaw disarmed Reinking.
Tricia Perez, the mother of Joe Perez, was called to testify. She was emotional while she took the stand and at one point was handed a photo of her son. Perez testified that her son moved to Nashville four months before the shooting to be closer to his brother. On the day of the shooting, Perez said no one could get ahold of her son. Eventually, she pinged his phone to see he was at the Waffle House. Perez said she then flew to Nashville and eventually went to collect her son's car, which was found with its flashing lights on and a flat tire.
Abede Dasilva took the stand before the mid-afternoon recess. He had to witness video of the shooting from security footage of the shooting.
Tears ran down his face as he recounted his brother's last words were that he couldn't breathe. He said he thought he would be OK, because he thought the bullet only hit his arm, not realizing it hit his lung.
Prior to paramedics loading up this brother, Dasilva laid with him on the ground. The two brothers went in two different directions during the shooting, with Akilah going to the left and Abede going to the right, which is where he hid in a bathroom. After the incident ended, Dasilva went outside to try to find his brother. When he didn't see him out in the parking lot, he went back inside to find him.
"He was yelling my name," Abede said. "I was just laying there with him telling him it was going to be OK. I didn't want to hurt him. I just looked in his eyes and was like, 'you're gonna be all right.'"
Akilah's girlfriend, Shantia Waggoner, took the stand after the mid-afternoon recess. She walked with crutches to the stand, saying she didn't need them before the shooting. She said she now needed them because of the gunshot wound to her leg. The two had dated for nearly seven years.
"He knew me the best," she said. "He knew exactly what I was going to pick. We were sitting toward the door. The first noise was an extremely loud pop and hearing became distant in my left ear. The first sound I heard, no I didn't know it was a gunshot. The second one I did because the glass began to shatter. We both just got on the floor."
Waggoner said the gunshots kept coming, wondering when they were going to stop. She said she wasn't sure where the gunshots were coming from.
"I remember looking at Akilah," she said. "I tried to move forward and I looked down and noticed the gunshot had ripped my leg away. The only thing I had connecting was a little bit of skin on the back."
Waggoner testified she couldn't move her leg.
"I was just trying to keep calm," she said. "I knew if I panicked, he would panic even more. I believe I saw James Shaw. I saw him come by me. I had asked for help and he said he couldn't help me at the moment. That's when the panic set in, and I called 911. My experience was terrible. The lady was upset I didn't know the address. I tried to explain to her I didn't know the address, and she kept getting frustrated I didn't know the address. I ended up hanging up and calling my mother. It was a very hard conversation. I was thinking to myself if no one is going to come for me, the last thing I could remember was my mom's making me laugh. Then she got my dad and they only live five minutes away from the Waffle House."
Waggoner described the paramedics shoved her leg back into the place, explaining it was the worst pain she ever experienced in her life. She said she arrived at Vanderbilt University Medical Center and remembered the nurses discussing where they would put her because they couldn't place her in surgery. She said she sat there writhing in pain for 90 minutes. In the end, she had to have a complete reconstruction of her leg which resulted in nearly 15 surgeries. As a result, she will never be able to walk again normally, she said.
Witness Brennan McMurry said he can't forget the night of the Waffle House shooting and that he thinks about it every day. He was with his best friend James Shaw, who stopped the gunman during the altercation. He said he remembered seeing Reinking in a truck, staring at the two of them.
"I told James, this is the person right here that would shoot a place up, not knowing he was the person that would shoot a place up," McMurry said. "I distinctively I remember loud commotion and then everyone was running. There was chaos. James had jumped out of seat immediately and took off. James slipped and grabbed his pants. The shots were getting louder and louder. I thought James had gotten into another bathroom. I got into a bathroom and locked the door. It was like rumbling, getting closer."
Di'Angelo Groves took the stand to identify his sister, DeEbony Groves. The two were attending Belmont University at the same time. He said the last time he communicated with her was on Instagram.
"I had a serious of people calling me trying to find out what happened to her," he said. "One of her sorority sisters left me a voicemail. I kept calling her phone and she didn't answer. She was supposed to show up for work that morning and she never showed. I called three different hospitals and no one could tell me anything. One of her friends reached out to me on Facebook that she died. That's literally how I found out."
Sharita Henderson, 28 now, said she had already graduated from MTSU during the time of the shooting. She was best friends with DeEbony Groves. The two had checked out one Waffle House before going to one closer to Henderson's condo.
"I realized we didn't have a lot of time," Henderson said. "Once the glass shattered, I slouched between the seats. I told her to get down in the booth. I got on top of her because I am big sister, and I want to protect her. I feel like her mom and dad knew she would be with me. I figured they expected her friends to return her home in one piece. Unfortunately, I wasn't able to do that."
Henderson said she felt like if she breathed, he would figure she wasn't alive. She said Reinking shot her three times — twice in the arm and once in the leg. She's since had 24 surgeries and had to learn to do everything again, down to writing down her name.
"I remember looking at my leg, saying, 'God, please help me,'" Henderson said. "My leg was completely severed. My bones were shattered. I had Army boots on and I remember my foot being turned on its side and my leg nearly completely detached. I call it like a heaven experience. I remember thinking, 'God, please give me a second chance.' When I came to, I took a big breath. I looked around and I remember James Shaw had walked past us and out of the restaurant. I asked him for help. Then a couple of moments later, the first police officer arrived on scene. I was trying to breathe and couldn't catch my breath."
James Shaw Jr. — the man who stopped Reinking — said the whole night was a cluster of feelings of events he did and didn't want to do. He and McMurry visited a previous Waffle House before arriving at the one on Murfreesboro Road. He said the two were laughing and having fun.
He described Reinking looking at in the courtroom the same way he was that night.
"He looks like he doesn't care," Shaw Jr. said.
Shaw said he saw a figure kind of falling, and then the windows were shot like a silver glitter.
"Shots were coming over my left shoulder," he said. "Immediately I went to the right. I fell, and BJ picked me up. I was going to step on the empty booth and try to run out but something told me don't do that. I am listening to the gun, and it's not a handgun. It was a lot more deafening than a handgun is."
Shaw watched him point the gun down to reload. That's when he took action.
"There was a voice that told me to do it, do it now. I wanted to keep an eye on him to find my moment and find that opportunity. I ran through the door as fast as I could. I ran through the door thinking it was going to me or him or death. I had to think why were literally fighting off what I could do and not get injured. 'You're going to have to grab the barrel, James. You're going to have to push it down,' [I said to myself.] As he goes for my left hand, I take my left hand off him and pulling and pulling and I get the gun and I throw it. It seemed like the gun was in the air for days and it finally get over the bar. I manhandled him out of my way."
Before the jury, Shaw showed the jury where his hand touched the barrel of the gun. He also had to watch the surveillance video of the incident and describe who people were along with his actions that night. He had second-degree burns on his hands, and a bullet grazed his elbow area.
After the two had an altercation, he saw Reinking trot away. Shaw testified that Reinking described him with a racial slur. Shaw jumped in his truck, but realized he needed to call 911 but his phone was faced down on the countertop.
"I see Sharita — the first thing that comes to my mind is how can I move her?" he said. "I know I can't move her. The best example I can you is her leg looked like a banana peel with no banana in it. I saw Ebony laying in a way that she wasn't alive anymore. I wanted to help her, but I just couldn't help her."
Shaw Jr. said he was blessed.
"In the moment, it's real rough to put a label on it, right?"
Previous trial coverage:
Day 1: Opening arguments, prosecution begins
James Shaw Jr. recounts wrestling gun away from Travis Reinking
Day 2: Prosecution calls victim, various law enforcement officers to testify
Day 3: Prosecution calls final witness before resting its case
Travis Reinking wrote he was being hacked, possibly delusional in letters to Taylor Swift, Oprah
Day 3: Defense calls its first witness, a forensic psychologist, to testify on Reinking's mental health
Day 4: Defense calls second psychologist, state calls rebuttal witnesses
On jail meal tray, Reinking drew depiction of Waffle House shooting
Day 5: Closing arguments, jury hears charges then begins deliberation
---
TIMELINE OF WAFFLE HOUSE SHOOTING CASE
---
April 22, 2018: Four people are killed and four others wounded when a gunman opens fire at an Antioch Waffle House around 3:30 a.m.
Metro Nashville Police Department officials named 29-year-old Travis Reinking, from Illinois, as a person of interest in the shooting, saying the vehicle the gunman used was registered to him.
MNPD officers, to include SWAT, have continued the search for Travis Reinking in the Antioch area overnight. There have been no credible sightings. The search will continue. All schools in the area have been cleared by officers. He was last seen Sun morn behind his apt complex. pic.twitter.com/ChY1ihCdKG

— Metro Nashville PD (@MNPDNashville) April 23, 2018
---
April 23, 2018: Reinking is taken into custody
After a tense, 34-hour manhunt, Reinking is arrested in a wooded area near Old Hickory Boulevard and Hobson Pike.
The area in which Travis Reinking was apprehended was the subject of aerial and canine searches Sunday and ground searches earlier today. His movements since the shooting are unknown. Reinking refused to give a statement to detectives. pic.twitter.com/F36lxQz6mz

— Metro Nashville PD (@MNPDNashville) April 23, 2018
He's been in custody ever since and is now at the new Davidson County jail.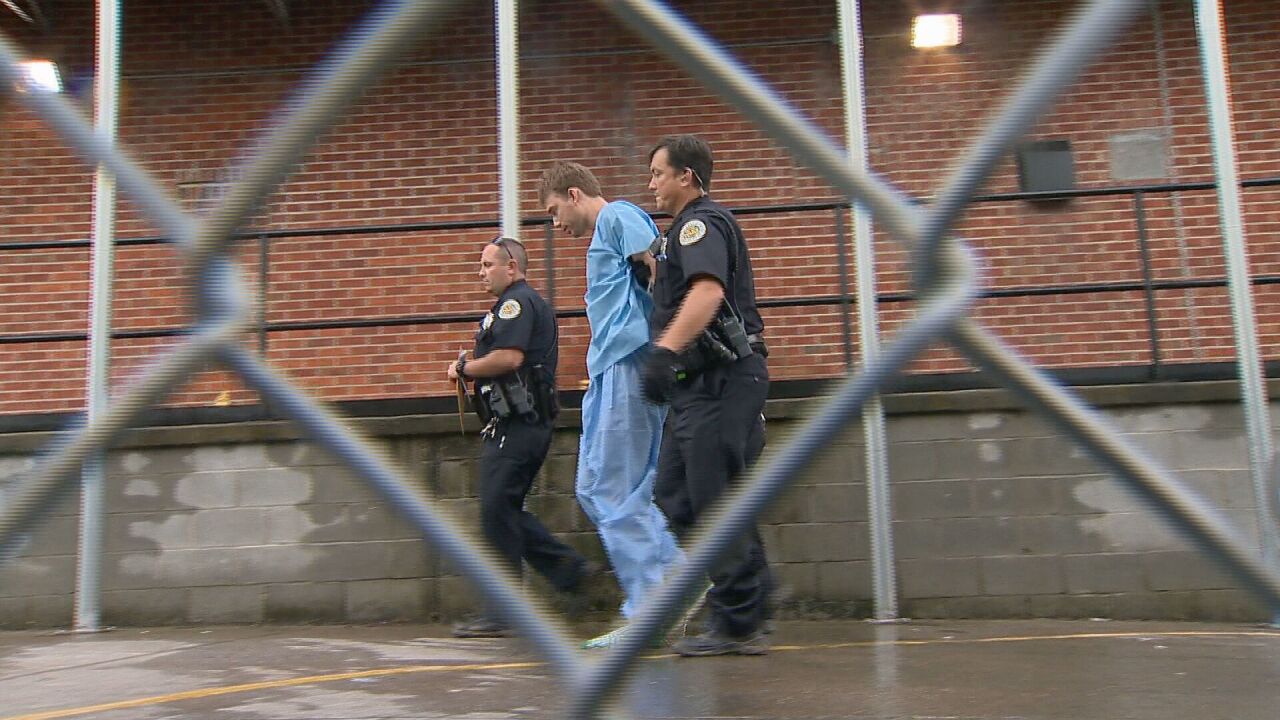 ---
August 2018: Reinking deemed not competent to stand trial
A mental evaluation finds that Reinking is not competent to stand trial. Reinking, diagnosed with schizophrenia, is checked into the Middle Tennessee Mental Health Institute for evaluation.
A judge later deems him fit for trial and he's indicted on 16 counts, including murder.
Below is the list of charges:

Four counts of first-degree murder, premeditated — in the deaths of Joe Perez Jr., Taurean Sanderlin, Akilah Dasilva and DeEbony Groves
Two counts of attempted first-degree murder, premeditated, with serious bodily injury — of Shantia Waggoner and Sharita Henderson
Two counts of employing firearm during commission of or attempted to commit a dangerous felony — relating to attempted first-degree murder of Shanita Waggoner and Sharita Henderson
Two counts of attempted first-degree murder, premeditated — of Kayla Shaw and James Shaw Jr.
Two counts of employing firearm during commission of or attempted to commit a dangerous felony - relating to attempted first-degree murder of Kayla Shaw and James Shaw Jr.
Four counts of first-degree murder, felony murder — in the death of Joe Perez Jr., Taurean Sanderlin, Akilah Dasilva, DeEbony Groves
---
February 2019: Reinking pleads not guilty
Reinking pleads not guilty to charges related to the shooting. Reinking does not appear in court; his lawyer enters the plea on his behalf.
---
January 2020: Prosecutors announce they won't seek death penalty
---
REMEMBERING THE VICTIMS:
DeEbony Groves was from Gallatin and a senior at Belmont, majoring in social work. She was shot and killed inside the restaurant. She was 21.
Akilah Dasilva was inside with his girlfriend and brother when he was shot. He was taken to Vanderbilt University Medical Center, where he died. Friends called him a "passionate" musician who was pursuing a career in musical engineering at MTSU.
Joe Perez, the youngest victim, moved to Nashville from Texas a few months prior to the shooting and was also shot outside the restaurant. He was 20 years old.
Taurean Sanderlin age 29, was a Waffle House employee from Goodlettsville. He was shot and killed as he stood outside.