NASHVILLE, Tenn. (WTVF) — Travis Reinking has been sentenced to life in prison without the possibility of parole for the murder of Taurean Sanderlin, Joe Perez Jr., DeEbony Groves and Akilah Dasilva.
The jury of 12 people issued a sentence for the first-degree murder charges only. Judge Mark Fishburn will hold a separate hearing on May 6 to issue sentences for Reinking's other convictions.
Reinking was found guilty of all 16 counts on Friday, with the jury rejecting the defense's argument that Reinking was not sane at the time of the shooting.
After an emotional morning of testimony, Patricia Perez, the mother of Joe Perez Jr., thanked the judge and jury for their hard work.
"Justice was served today for my son Joey, and for Akilah, DeEbony, Taurean," she said. "I just wanted to thank everybody who was involved, who helped us, who gave us their support and who were behind us."
Patricia Perez reacts to sentencing
James Shaw Jr., the man who disarmed Reinking, spoke with reporters after the sentencing was announced.
"Overall today was for the families who actually lost somebody," Shaw said. "It was very hard, very emotionally rough, very heavy on everybody's heart no matter which side you were on."
James Shaw Jr. reacts to Travis Reinking sentencing
Shaw said he fully agrees with the jury's sentencing decision. He discussed the heavy impact the shooting and week of trial have been on him.
"This ain't never going away for me. It's over with – but this is still day 1,385. Tomorrow will be day 1,386, it'll be 1,387. It'll be 5,000 one day."
When talking about his actions that day, which have hailed him a hero, Shaw told the court a voice in his head told him to grab the gun.
"I'm proud that I went out there and did what I did. In the moment, on April 22 of 2018, I was so scared to step in the light and be the man that I think I was supposed to be," he said. "I ain't doing that no more. I'm gonna step into that light, step into that potential. I'm gonna go forward. I'm gonna grow."
Moving forward, Shaw said he will seek out help through therapy to better himself and close this chapter of his life.
"I've always been able to internalize stuff, kinda figure stuff out for myself. But going through this, that's one thing you don't want to do. That's one thing [Reinking] didn't have, I guess. He turned everything inward, he turned everything into a YouTube video," Shaw said. "For me to better myself, I need to get help. If I can get help, I can help others."
At the conclusion of the trial, District Attorney Glenn Funk, Deputy District Attorney Roger Moore, Assistant District Attorney Jan Norman and Assistant District Attorney Ronald Dowdy said their focus in this case has always been on the victims, those killed and those who survived.
"The results of this trial demonstrate that violent crime will not be tolerated and will not be excused," Funk said.
Prosecutors react to conclusion of Waffle House shooting trial
Attorneys for Reinking and his parents did not give a public comment on the sentencing. However, Reinking's uncle Gene Pflederer told NewsChannel 5 their family will continue to pray for the victims.
"Our family has been and will continue to be in prayer for the families of these beautiful lives lost and those who survived with physical and emotional injuries," Pflederer said.
On Saturday morning, the family members of the victims spoke in court about the impact of their deaths. Jury members were seen getting emotional while listening to the victim impact statements.
Reinking's defense did not call witnesses in the sentencing hearing.
In the state's closing arguments, Moore argued Reinking should be sentenced to life in prison, without parole.
"Travis Reinking deserves to be in prison without the hope of release. That is what justice demands," Moore said. "What mitigation can there be for acts so horrible, for lives taken, for lives devastated?"
Defense attorney Luke Evans responded, acknowledging the tragic and moving impact statements, but adding an emotional response can't be the basis for the sentence the jury chooses.
"Law and justice requires you to consider the mitigating circumstances," Evans said. "It requires you to consider Mr. Reinking."
Evans reminded the jury that Reinking is severely mentally ill.
"Travis Reinking is sick, was sick and has been sick for a significant period of time," he said.
In the state's rebuttal, Norman argued Reinking went to the restaurant with the intent to murder everyone inside.
She referenced journal entries written by Reinking before the shooting that referenced thoughts of mass shootings and his desire to be a martyr.
Norman showed the jury a surveillance photo from inside the Waffle House moments before the shooting began. She read the names of all 10 people who were inside and survived the shooting.
Under state law, the jury must weigh and consider various aggravating factors in Reinking's crime with any mitigating factors when they made their decision.
One mitigating factor Reinking's attorneys presented to the jury was that the murders were committed while Reinking was under the influence of extreme mental and emotional disturbance.
The state's official aggravating factors are as follows:

The defendant knowingly created a great risk to two or more persons, other than the victim murdered.
The defendant committed mass murder, which is defined as the murder of three or more persons.
The defense's five official mitigating factors are as follows:

The defendant has no significant history of prior criminal activity.
The murder was committed while the defendant was under the influence of extreme mental or emotional disturbance.
The murder was committed under circumstances that the defendant reasonably believed to provide a moral justification for the defendant's conduct.
The capacity of the defendant to appreciate the wrongfulness of the defendant's conduct was substantially impaired as a result of mental disease or defect, which was insufficient to establish a defense to the crime, but which substantially affected the defendant's judgment.
Any other mitigating factor raised by the evidence produced by either the prosecution or defense.
---
The first family member to take the stand on Saturday morning was Patricia Perez, the mother of Joe Perez Jr. Patricia was also called as a witness by the prosecution earlier this week.
Joe had recently moved to Nashville to help with his brother's business. He stopped at the Waffle House after getting a flat tire.
"This has broken me. Not just my spirit, not just my family, but also my mind" Patricia told the court.
The court also heard from Joe Perez Sr., the father of the victim.
"I miss my son Joey," Joe Perez Sr. said.
Blanch Anderson, the aunt of Taurean Sanderlin, remembered her nephew, smiling while thinking of memories. She also testified earlier in the trial.
"He never greeted me without giving me a big hug, saying, 'hey auntie!'" Anderson recounted.
The court then heard from William Bryson Murray, Sanderlin's cousin who was living with him when the shooting happened. He talked about how close the two were, describing Sanderlin as someone who would go out of their way to make anyone laugh.
Murray said he and Sanderlin lived close to the Waffle House. He said the two believed that Waffle House location was safer, in a better location and would provide the opportunity to make more money.
During her emotional testimony, Shaundelle Brooks, the mother of Akilah Dasilva, spoke on the pain she continues to feel after losing her son.
"Every morning, I wake up with the same thought: my baby is gone," she said. "I didn't lose my son, Akilah, he was taken from me, taken from my family; ripped from us."
Next, Akilah's brother Abede Dasilva took the stand. Abede was with his brother and Akilah's girlfriend Shantia Waggoner at the Waffle House when the shooting happened.
Abede spoke on how he continues to suffer from post-traumatic stress disorder after living through the mass murder. Abede witnessed his brother's last words after being shot in the lung, "I can't breathe."
"Reliving it every day just tears me apart," Abede testified.
The final witnesses were the brother, father and mother of DeEbony Groves.
Her brother Di'Angelo Groves spoke first, becoming overwhelmed with emotion at times. Di'Angelo testified during the evidence phase of the trial as well.
"It just literally felt like somebody took a vacuum and sucked the life out of me. It was literally like I had lost a piece of me," Di'Angelo said.
Albert Groves, DeEbony's father, described his daughter as loving, bright and talented.
"My mom, my dad, her uncles, her aunts — they're devastated. When she passed away, my mom wasn't able to make it to the funeral — that hurt everyone. She couldn't make it," Albert said. "Her great uncles and great aunts are devastated, someone with so much potential...we worked hard to educate. She got a scholarship to Belmont, was about to graduate, everything was great."
DeEbony's mother Shirl Groves Baker told the jury all of her dreams for DeEbony "just disintegrated into the air" the day she was killed.
Baker testified that she continues to struggle with losing her daughter.
"Every time I pose for a picture, I cry. What do I have to smile about? She should be here," Baker said.
Previous trial coverage:
Day 1: Opening arguments, prosecution begins
James Shaw Jr. recounts wrestling gun away from Travis Reinking
Day 2: Prosecution calls victim, various law enforcement officers to testify
Day 3: Prosecution calls final witness before resting its case
Travis Reinking wrote he was being hacked, possibly delusional in letters to Taylor Swift, Oprah
Day 3: Defense calls its first witness, a forensic psychologist, to testify on Reinking's mental health
Day 4: Defense calls second psychologist, state calls rebuttal witnesses
On jail meal tray, Reinking drew depiction of Waffle House shooting
Day 5: Closing arguments, jury hears charges then begins deliberation
---
TIMELINE OF WAFFLE HOUSE SHOOTING CASE
---
April 22, 2018: Four people are killed and four others wounded when a gunman opens fire at an Antioch Waffle House around 3:30 a.m.
Metro Nashville Police Department officials named 29-year-old Travis Reinking, from Illinois, as a person of interest in the shooting, saying the vehicle the gunman used was registered to him.
MNPD officers, to include SWAT, have continued the search for Travis Reinking in the Antioch area overnight. There have been no credible sightings. The search will continue. All schools in the area have been cleared by officers. He was last seen Sun morn behind his apt complex. pic.twitter.com/ChY1ihCdKG

— Metro Nashville PD (@MNPDNashville) April 23, 2018
---
April 23, 2018: Reinking is taken into custody
After a tense, 34-hour manhunt, Reinking is arrested in a wooded area near Old Hickory Boulevard and Hobson Pike.
The area in which Travis Reinking was apprehended was the subject of aerial and canine searches Sunday and ground searches earlier today. His movements since the shooting are unknown. Reinking refused to give a statement to detectives. pic.twitter.com/F36lxQz6mz

— Metro Nashville PD (@MNPDNashville) April 23, 2018
He's been in custody ever since and is now at the new Davidson County jail.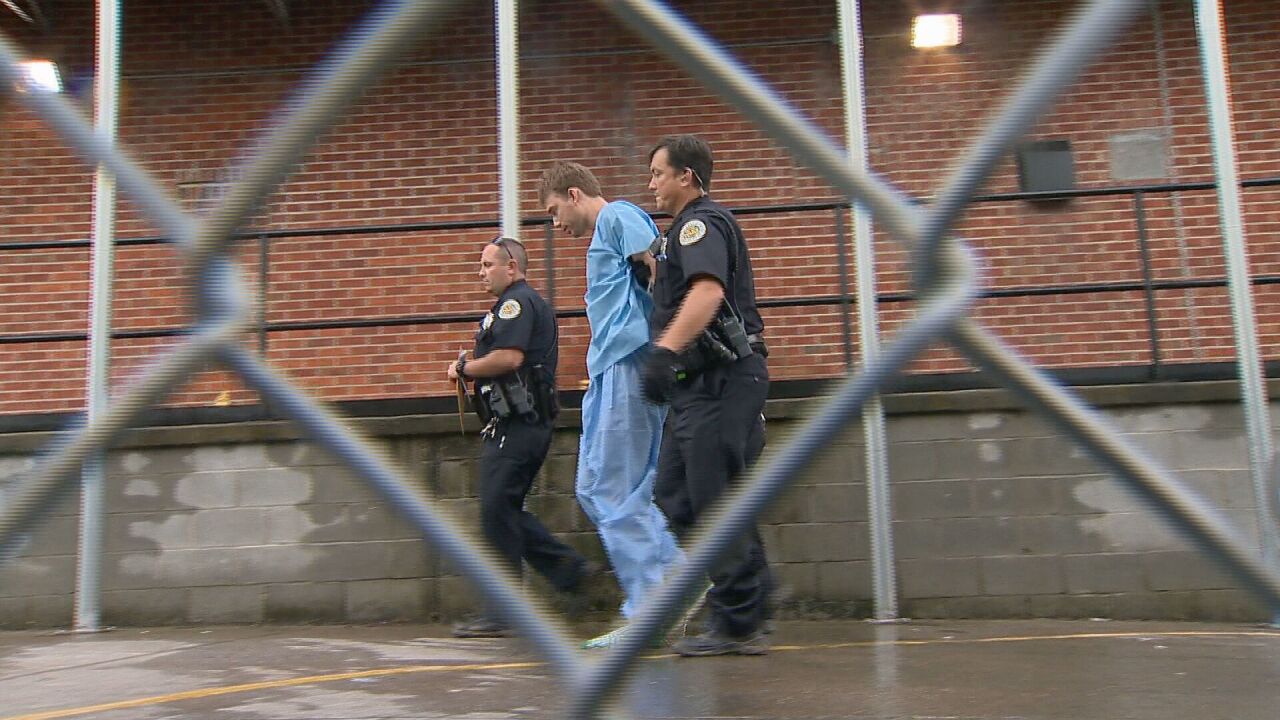 ---
August 2018: Reinking deemed not competent to stand trial
A mental evaluation finds that Reinking is not competent to stand trial. Reinking, diagnosed with schizophrenia, is checked into the Middle Tennessee Mental Health Institute for evaluation.
A judge later deems him fit for trial and he's indicted on 16 counts, including murder.
Below is the list of charges:

Four counts of first-degree murder, premeditated — in the deaths of Joe Perez Jr., Taurean Sanderlin, Akilah Dasilva and DeEbony Groves
Two counts of attempted first-degree murder, premeditated, with serious bodily injury — of Shantia Waggoner and Sharita Henderson
Two counts of employing firearm during commission of or attempted to commit a dangerous felony — relating to attempted first-degree murder of Shanita Waggoner and Sharita Henderson
Two counts of attempted first-degree murder, premeditated — of Kayla Shaw and James Shaw Jr.
Two counts of employing firearm during commission of or attempted to commit a dangerous felony - relating to attempted first-degree murder of Kayla Shaw and James Shaw Jr.
Four counts of first-degree murder, felony murder — in the death of Joe Perez Jr., Taurean Sanderlin, Akilah Dasilva, DeEbony Groves
---
February 2019: Reinking pleads not guilty
Reinking pleads not guilty to charges related to the shooting. Reinking does not appear in court; his lawyer enters the plea on his behalf.
---
January 2020: Prosecutors announce they won't seek death penalty
---
REMEMBERING THE VICTIMS:
DeEbony Groves was from Gallatin and a senior at Belmont, majoring in social work. She was shot and killed inside the restaurant. She was 21.
Akilah Dasilva was inside with his girlfriend and brother when he was shot. He was taken to Vanderbilt University Medical Center, where he died. Friends called him a "passionate" musician who was pursuing a career in musical engineering at MTSU.
Joe Perez, the youngest victim, moved to Nashville from Texas a few months prior to the shooting and was also shot outside the restaurant. He was 20 years old.
Taurean Sanderlin age 29, was a Waffle House employee from Goodlettsville. He was shot and killed as he stood outside.